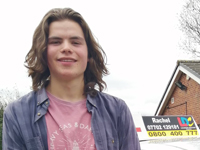 George Smallshaw
Passed 1st Time
I found having lessons with Rachel both helpful and enjoyable. I found learning how to drive a bit stressful, but fun. Rachel was great company in the car and made learning to drive a lot easier. A two hour lesson meant I had time for a lot of practise in detail about certain aspects of driving. Using the LDC book made the theory of driving a lot easier and prepared me for my safety questions.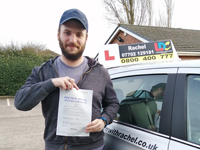 Paul Scott
Fantastic experience, amazing instructor.
Rachel is a really friendly instructor who makes the driving experience feel really comfortable. The LDC hub and workbook made it really easy to see all the things that were required and I was easily able to track my progress. Rachel is a fantastic instructor and I couldn't ask for better knowledge and experience. She made the whole process fun and easy. I have already recommended her to others.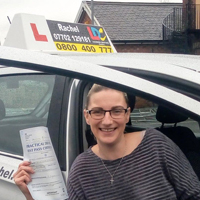 Heather Barker
Enjoyed Everything
Rachel is an amazing instructor. I enjoyed everything about my lessons. I would absolutely recommend her. She really calmed my nerves, she helped me in the areas I needed help in and gave only positive feedback which really boosted my confidence. Using the LDC student hub and workbook gave me things to aim for and it was useful to read in between lessons. Thank you Rachel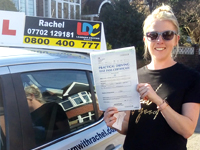 Katie Sharman
Passed 1st Time
Rachel is a fantastic instructor who helped me pass first time. I was really nervous about starting to drive after having a few lessons years ago with another instructor and hated it which put me off wanting to learn. Rachel had a totally different approach to teaching which helped me massively. She let me take things at my own pace so that I didn't feel uncomfortable and out of my depth. I really gained confidence to finally overcome my fear of learning to drive. I would highly recommend Rachel to anyone. The LDC student hub and workbook helped massively, especially with the theory test.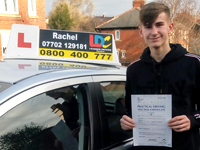 Thomas Bradshaw
Passed 1st Time
I would definitely recommend Rachel. I loved every minute of my lessons. What I enjoyed most was how supportive Rachel was and how calm she was even on my first lesson. She is so supportive, calm with everything I did and she had more belief in me than I had myself. Thank you.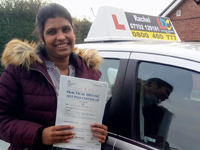 Latha Sathiyaseelan
Passed 1st Time
Thank you Rachel. I really appreciate your training and the way you go through all the lessons. Big thank you for you and I definitely recommend you to my friends.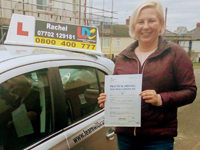 Agnieszka Liczek
Loved Everything
Thank you, Rachel. I'm very happy, you teach me very well, I love everything about driving. The LDC student hub was very helpful. I recommend Rachel. She is nice, friendly person and good teacher.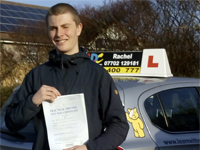 Jack Mowbray
Passed First Time and Enjoyed Driving
I would recommend Rachel for learning to drive. Feedback was good and always constructive, not critical. She always gave good advice both during the lesson and afterwards. She was very kind and also let me spend as much time as I needed for what I wanted to achieve. Rather than telling me if I forgot something, she would give me a prompt so I could work it out myself. Using the LD System workbooks and hub meant I was able to visualise what I had to do before each lesson, especially for the manoeuvres. The workbook was also very useful for the safety questions.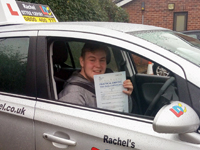 Jared Denham
Excellent experience
I have had an excellent experience learning to drive. I really enjoyed learning how to drive down country lanes safely and learning all the different manoeuvres to help control the car. Using the LDC workbook and videos made it a lot easier because I already had an idea of how to do something before going to lesson. I would recommend Rachel because she teaches you everything, makes sure you've covered everything and supports you with your learning.
Leanne Lockwood
Only One Driver Fault
My experience has been really enjoyable with a fantastic instructor. Passing my driving test, with only one fault at 42 years of age, has really given me confidence and I put that down to Rachel. The LDC student workbook also helped as it had great information and was useful to refer to. I would highly recommend learning to drive with Rachel as she is really calm and helps you to settle your nerves. A 5 star experience.
Donna Biggs
Passed First Time
Rachel is an amazing instructor who encourages you to do your best without pushing you. I liked that the lessons were done at my own speed so that my confidence was never knocked. I started my lessons really nervous and not really wanting to learn but passing first time has really helped my confidence. My experience has been a really positve one taken in a calming atmosphere. I found the LD system really useful to help reinforce my learning and to be able to look at the pictures to visualise manouvers.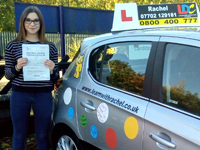 Hannah Cryer
Amazing Experience
What I enjoyed most about my lessons with Rachel was having a calm environment to be able to practise anything I wasn't sure about. Using the LDC system made a big difference as it was easy to learn the Show me Tell me questions and I was able to see which skills I'd completed. I would definitely recommend Rachel to anyone who wants a calm, relaxed environment to learn. She's patient and helpful and knew what to do to give me confidence. I can't thank her enough.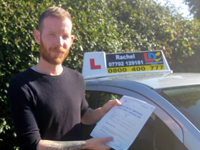 Karl Whitley
Highly Recommended
Very highly recommended! Rachel was very patient and thorough and helped me overcome my nerves and I couldn't have passed without her help! Tip, don't forget your bananas! 👍🏻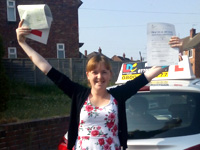 Sarah Pettinger
Fantastic Experience
My experience of learning to drive with Rachel has been fantastic. She is brilliant and enjoyable to have lessons with. I really enjoyed having fun with new things like the Sat Nav. I started learning with Rachel in November 2017 and she notice that I was nervous and panic over little things. After a few lessons from Rachel, my nerves had settled and when Rachel booked for my first test I didn't want to know and Rachel kept it a secret. On my test Rachel sat in the back and when I finished and I had been told that I'd failed Rachel helped me again with my nerves. We did small things like put the radio on low and used different breathing techniques to calm down. On my fourth test I finally passed and I was really happy I couldn't stop laughing and smiling and she was happy that I can drive all by myself now. I would recommend to anyone she is the BEST! Using the LDC workbook helped me know what I needed to work on especially when driving my own car.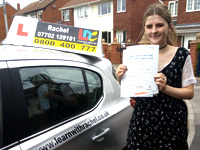 Esther Wilcock
I would recommend to anyone
Very good instructor! Was extremely helpful, teaching me how to drive safely, and making sure I wasn't picking up any bad habits. Helped me to pass my test with only 5 faults!! I found the LD System very good and very useful, especially for the theory test. Will be recommending to anybody who asks!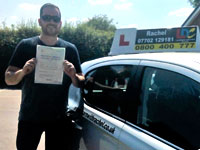 Lee Pierrepont
Extended Test
Awesome instructor. I came to Rachel a couple of months ago and asked her to work out a plan to get me back upto standard for an extended driving test following a driving ban some years ago. Rachel opted to schedule in some long and intense sessions rather than doing an hour a week. This proved to work wonderfully for me and I'm proud to say that I passed my extended test today which wouldn't have been possible without taking into consideration everything Rachel taught me over the last few months. She is a wonderful person and has a huge scope of knowledge in what she teaches. I would recommend Rachel as an instructor to anyone and it was my pleasure to be her student.
Charlie Staniforth
Passed 1st Time
Amazing Instructor! After having another instructor and not enjoying driving at all I changed to Rachel and it was the best decision ever. I started enjoying lessons, Rachel built my confidence and made me feel comfortable in everything I did. Never let me give up which resulted in me passing 1st time today at Pontefract. Brilliant teacher and amazing at what she does. Thank you so much Rachel I'm going to miss my Wednesday afternoons.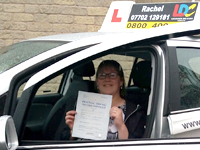 Mel Bowskill
I have gained more confidence and knowledge with Rachel
Rachel really showed me how to improve my own confidence and manage my nerves. Rachel has so much patience with any type of driver. I came to her a very nervous driver and she has taught me lots of strategies to help me handle my nerves when driving. Using the LDC student hub and workbook has helped tremendously. I have been with other driving schools and they don't offer this service or resources. It really helped me to track my progress.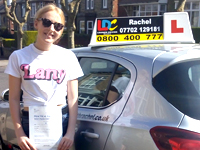 Imogen Butcher
It has been fun and I've learnt a lot.
I passed first time with only one fault. I would recommend Rachel at LDC because she is patient and helps you to learn from your mistakes so you don't make them again. Lessons were always fun. I really enjoyed learning all the manoeuvres and learning to drive safely on the country roads. Using the LDC student hub and workbook made learning easier as I could read all about what I would be doing before the next lesson started. I would rate my driving lesson experience 5 stars.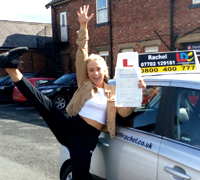 Molly Alston
Easy to learn driving
I passed first time and would say that Rachel made the lessons seem easy. I really enjoyed the relaxed atmosphere. The LDC student hub and workbook helped as they were always to hand for reference. I would recommend Rachel and LDC because the lessons are enjoyable, relaxed and you have easy access to resources which help with your driving.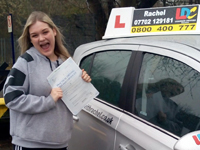 Ellie Hopkinson
Passed 1st Time
I really enjoyed my lessons and felt really comfortable with Rachel, my instructor. She allowed me to practise until I was happy that I'd got things right. I found the LDC system really helpful. Rachel is a fantastic instructor who will let you decide how may times you want to go over things. Definitely 5 stars!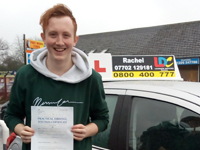 Tom Mallon
Passed 1st Time
I would rate my learning experience with Rachel at LDC as 5 star. All of my lessons were fun, enjoyable and very informative. Following the LD system was a great help and having the book and hub to help me prepare for each lesson was really handy. Rachel is an amazing teacher who is very friendly and helpful. I would recommend her to anyone. I passed 1st time.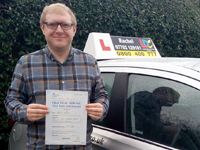 Jamie Oldfield
Passed 1st Time
Many thanks to Rachel for teaching me to drive and getting me through my driving test the first time with only four faults. Her calm, methodical approach to each lesson provided me with the confidence and the knowledge to carry out many of the otherwise difficult and stressful manoeuvres. The LD system is very effective and allows you to plan and prepare ahead of each lesson. Rachel is a calm, knowledgeable instructor who instills you with confidence. She does not patronise you if errors are made or if you take a while to learn a skill. I would strongly recommend learning with Rachel as either a complete novice or if you have had lessons in the past and need to get back up to speed. It was a pleasure to be taught by Rachel. Thank you.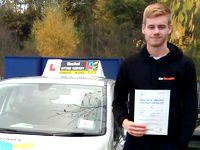 Olly Brown
Passed 1st time with only one minor.
I would give Rachel 5 stars. She is a really professional instructor. I will be recommending her as I passed first time.